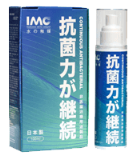 Continuous antibacterial at home
IMC water catalyst- Special formula for family
World-patented product of leading technology! Bringing you with incredible effect.
Continuous antibacterial, antivirus, mold proof, deodorization. Applicable to air-conditioners, dehumidifiers, water-cooled coolers, ventilation pipes, shoes, carpets, towels, kitchen towels, pillow, pillow cover, toilet, socks, underwear, scarf, bra, etc.
IMC, after application, will be strongly adhered to the surface (pores) of the object and can effectively prevent the growth of bacterial and virus- wide applications, long-lasting and no skin irritation.